Read more about Throwley Yard, our new project in collaboration with Sutton Council
10/03/2022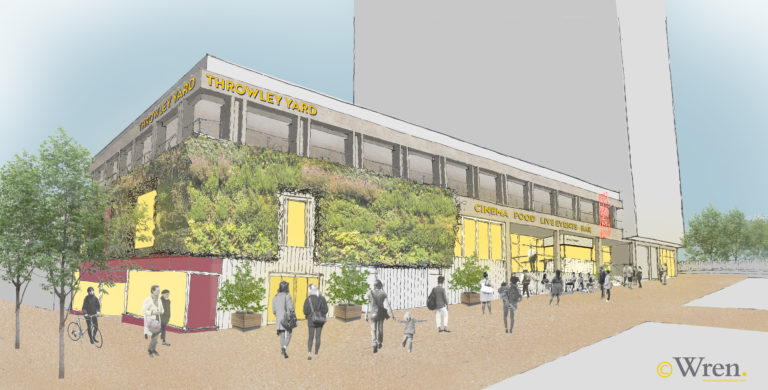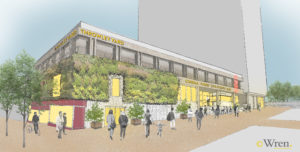 Sutton Council and Really Local Group have announced plans to create Throwley Yard, transforming the former Chicago's nightclub into a new cultural hub for Sutton.
The new venue, set to open in late 2023, will feature a cinema, food hall and flexible space for a range of cultural activities. The site, between Sutton High Street and Manor Park, will be brought back to life after standing empty for nearly ten years.
Throwley Yard will be a carbon-neutral venue, in line with the Council's commitment to tackling climate change and achieving net zero carbon emissions as a borough.
The plans are part of the Council's plans to create a vibrant and sustainable town centre with great culture, food, shopping and modern flexible working. Last year the Council secured £11.35 million from the Government's Future High Streets Fund to deliver Throwley Yard and three other projects that will make this vision a reality. It has just announced plans in next year's Council budget to invest £30million in the borough's High Streets and the London Cancer Hub, to bring jobs and grow Sutton's economy.
The Council launched its search for a partner to create and operate Throwley Yard last September, and plans to appoint regeneration experts Really Local Group were approved by councillors on the Strategy and Resource Committee on Monday 14 February.
Really Local Group are the people behind Catford Mews, an independent cinema, pop-up food market and entertainment venue in Lewisham, London's Borough of Culture in 2022. Two years ago, they announced their partnership with Southwark Council to restore an iconic central marketplace in Bermondsey. The group is committed to delivering regeneration that is tailored to the local area and community, and promises to continue its record of success with Throwley Yard.
Under its plans for Sutton High Street, the Council has already delivered the transformation of Market House, which houses a community hub and the Sound Lounge live music venue. The local authority is also working to create Sutton Works, a co-working space and space for start-ups in the upper floors of the former BHS department store, set to open in summer 2023. Last year it bought the St Nicholas Centre, helping to ensure the town centre's future by giving the Council greater control over a key landmark on the High Street.
Councillor Jayne McCoy, Deputy Leader of Sutton Council, said: "This is a really exciting moment. By working with Really Local Group we'll be bringing a Sutton landmark back into use after nearly 10 years, transforming the old Chicago's into a hub of daytime and evening activity that will bring a new buzz to the town centre.
"We were impressed by Really Local Group's approach because it aligns with our own commitment to boosting our economy and culture by creating spaces for community, business and artists to grow. We've got big plans for Sutton Town Centre and Throwley Yard is a key part of them. I can't wait to see this site come to life again."
Preston Benson, Founder of Really Local Group, commented: "Really Local Group creates multi-use social and entertainment hubs by repurposing original venues, and we're incredibly excited to be working with Sutton Council on this project. The repurposing of the site of this former nightclub aims to bring local businesses, jobs and lifestyle opportunities to the local area, offering a place for the community to enjoy live performances, arts classes and much more."